Home
Juice (Conc)
Juice (NFC)
Puree (Conc)
Puree (NFC)
Contact Us
Since 1989, Caymara Inc. is a world wide trading company based in Panama, Central America, dealing with fruit juices, purees and concentrates from around the world, including Quicornac products from Ecuador and Peru.
Passion Fruit and Mango Concentrates are unique ingredients which can be used in a wide variety of food and beverage products. Their colorful, flavorful, aromatic and refreshing tropical flavor makes it the ideal ingredient for a number of sophisticated applications.
Passion Fruit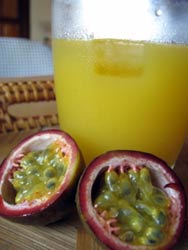 While the origin of the Passion Fruit plant is unknown, it is generally believed to be native to Brazil where 16th Century Spanish Catholics named it "Flor de las cinco llagas" or "flower of the five wounds" after its distinctive purple flower. Today, about 400 years later, passion fruit is grown nearly everywhere in the tropical belt but known by a variety of different names. Its common name is Maracuya in Ecuador and Brazil, Parcha in Venezuela, Lilikoi in Hawaii, and Chinola or Parchita in Puerto Rico.
It is in South America that most of the world's passion fruit is currently grown. Starting in the mid 1950's, passion fruit cultivation became widespread in Colombia and Venezuela. Later it spread to Ecuador. Today, South America, and particularly Ecuador, is the main exporter of passion fruit concentrate to the Western World.
Because of its unique, intense, aromatic flavor characteristics, passion fruit is a "natural" ingredient for juice blends. It has also been described as a natural concentrate and it blends so well with other juice flavors. In Germany, one of the largest juice consuming countries in the world, passion fruit concentrate and banana puree constitute the base of almost every "multivitamin" juice produced. These "multivitamin" juices are second only to apple juice in popularity among Germans.
Mango
Native to southern Asia, especially eastern India, Burma, and the Andaman Islands, the mango has been cultivated, praised and even revered in its homeland since Ancient times. Buddhist monks are believed to have taken the mango on voyages to Malaya and eastern Asia in the 4th and 5th Centuries B.C. The Persians are said to have carried it to East Africa about the 10th Century A.D.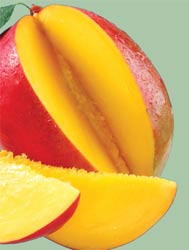 It was commonly grown in the East Indies before the earliest visits of the Portuguese who apparently introduced it to West Africa early in the 16th Century and also into Brazil. After becoming established in Brazil, the mango was carried to the West Indies, being first planted in Barbados about 1742 and later in the Dominican Republic. It reached Jamaica about 1782 and, early in the 19th Century, reached Mexico from the Philippines and the West Indies.
The ripe mango flesh may be spiced and preserved in jars. Surplus ripe mangos are peeled, sliced and canned in sirup, or made into jam, marmalade, jelly or nectar. The extracted pulpy juice of fibrous types is used for making mango halva and mango leather. Sometimes corn flour and tamarind seed jellose are mixed in. Mango juice may be spray-dried and powdered and used in infant and invalid foods, or reconstituted and drunk as a beverage. The dried juice, blended with wheat flour has been made into "cereal" flakes, A dehydrated mango custard powder has also been developed in India, especially for use in baby foods.